Intercoms & A/V Door Entry
An intercom system is a two-way communication electronic device that contains circuitry for the purpose of transmitting and receiving audio and/or video transmissions (in which case they are referred to as Audio/Video Door Entry systems).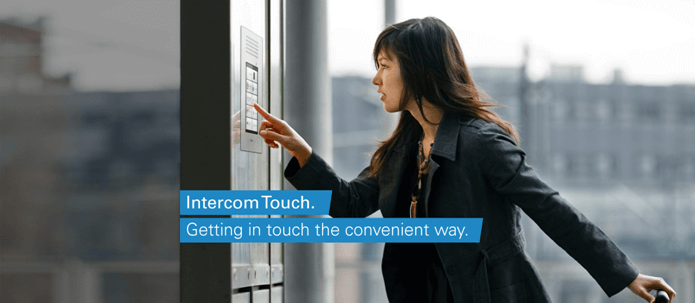 Intercoms can also incorporate connections to public address loudspeaker systems, walkie talkies, telephones, and to other intercom systems. Some intercom systems incorporate control of devices such as signal lights and door latches. Many buildings now use audio / video systems to identify visitors trying to gain access to a locked building, and can be interfaced with the building's access control system.

There are a wide variety of intercom systems available:

Wireless Intercoms: In applications where wires cannot be run, a wireless system is used. There are broad spectrums of two-way wireless communication devices that include such devices as handheld radios, outdoor wireless call boxes, as well as traditional desktop devices. The range these units will transmit varies widely based on the wireless technology used.

Wired Intercom Systems: When you can run wires between locations, a wired system can give you a little more privacy and eliminate possible interference from neighbouring systems. There are different wire types such as 2-wire shielded or Cat-5/6 that can be used with these systems. If you are considering a video system, a wired unit may be the best solution.

Video Intercom: These typically have a unit that has a camera, speaker, and a push button that goes at an entrance door, and an internal monitor unit that can communicate with the entrance unit. Some systems can have multiple video monitors internally. Given the difficulty of sending video over the airwaves at very much distance without interference, most available units are wired.

Apartment Intercoms: This type of system has a door unit at an entrance door and then each apartment or flat has either one or multiple units that can speak to the door and possibly see the visitor, or the door unit rings a landline or cellular telephone number. A visitor simply presses the correct button for the apartment they want to speak to, and the tenant can speak back and then press a button to unlock the door.
Basic Intercom systems components
Master Station or Base Station - These are units that can control the system, i.e., initiate a call with any of the stations and make announcements over the whole system.

Sub-station - Units that are capable of only initiating a call with a Master Station but not capable of initiating calls with any other stations.

Door Station - Like sub-stations, these units are only capable of initiating a call to a Master Station. They are typically weather-proof.

Intercom Station - This is a Full-featured remote unit that is capable of initiating and receiving party-line conversation, individual conversation and signalling; may be rack-mounted, wall-mounted or portable.

Wall Mount Station - It's a Fixed-position intercom station with built-in loudspeaker which may have flush-mounted microphone, hand-held push to talk microphone.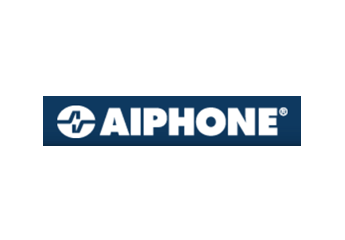 Aiphone is a much respected and reliable brand that exports to over 60 countries.
Systems for Every Application
Aiphone products range from door answering units to sophisticated video entry security systems, complex microprocessor-based commercial systems, and luxury condo/apartment security and communication systems.
Designed to Last
Every Aiphone system is the result of painstaking attention to detail, with contemporary design and the finest quality hardware and circuitry. All products are engineered and tested with reliability in mind.
Winner of the Demming Prize
Aiphone is the first and only intercom manufacturer to win the Deming Prize, the highest international award for quality control. Named in the honor of Dr. W. Edwards Deming, the award honors firms worldwide which advance and maintain manufacturing quality.
ISO 9001
Aiphone is the first intercom manufacturer worldwide to receive ISO 9001 certification. The International Standards Organization (ISO), headquartered in Geneva graded Aiphone against guidelines for design, development, production, product inspection and testing.
Products
1. IX PRODUCT RANGE:


2. JO SERIES:


Aiphone products include the following: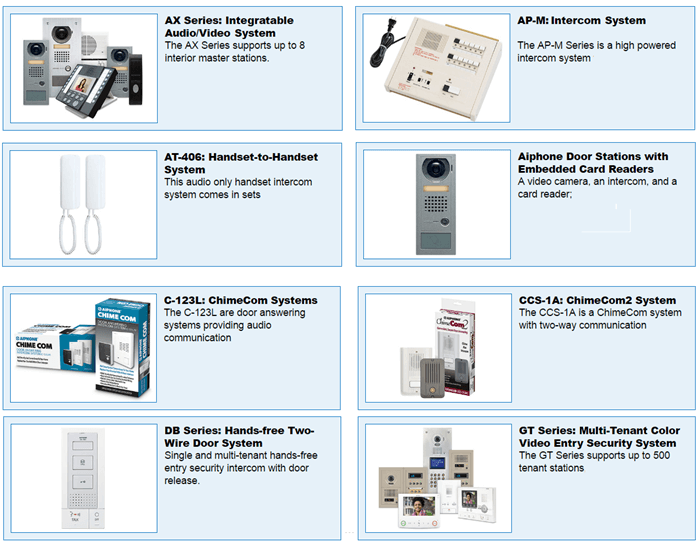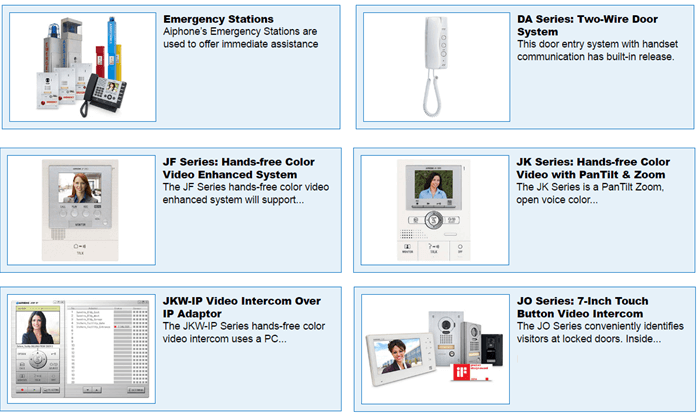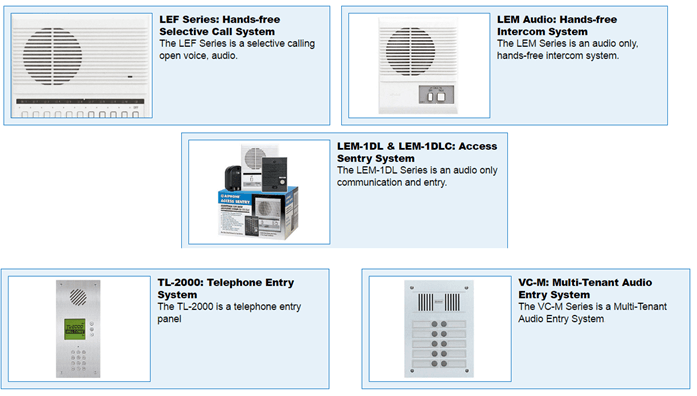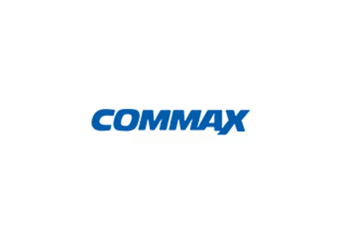 COMMAX is a global company that has led development of global information-telecommunication devices.

It is a specialized company which has consistently provided satisfying products for the continuously changing telecommunication requirements of the times. It has been recognized on the global stage as a specialized company; that is at the forefront of change in the telecommunication environment from audio to video, from analog to digital, and from wired to wireless.


Products
Demonstration
Commax products include the following: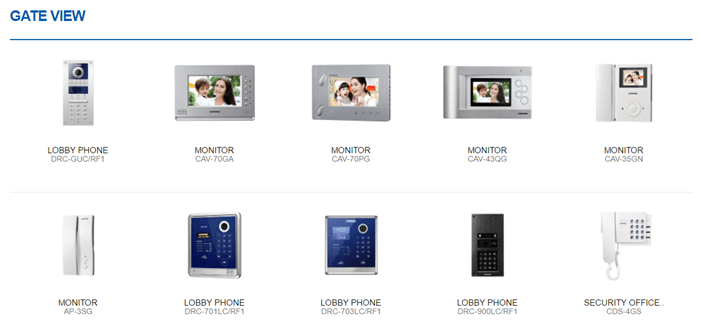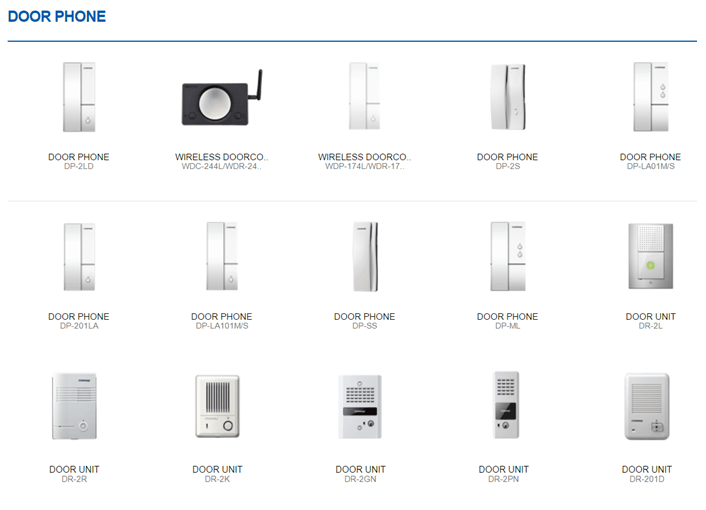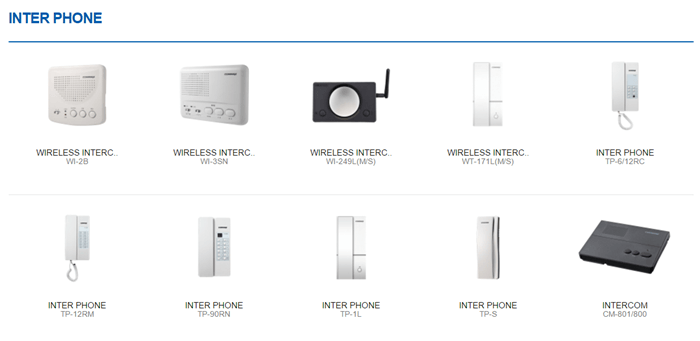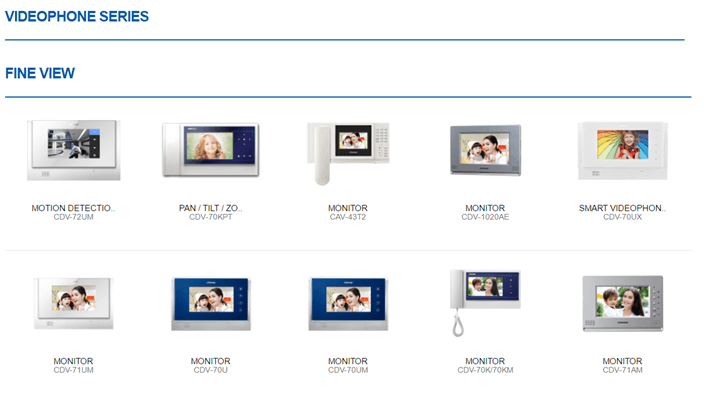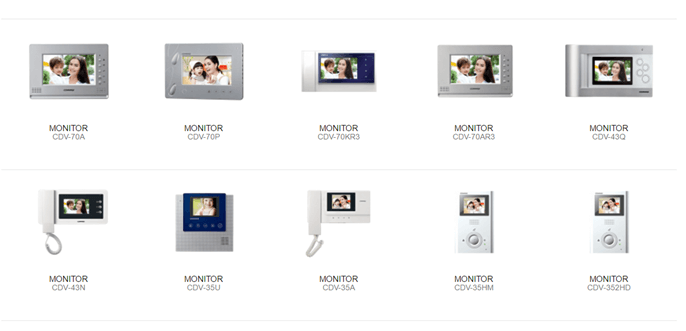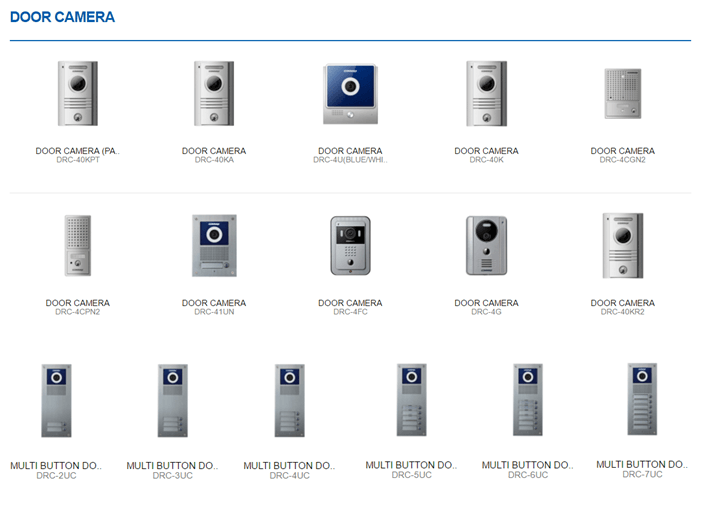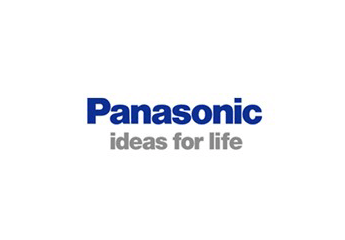 Panasonic has developed many products over the years, and continues to combine their individual strengths in pursuit of "Cross Value Innovation" resulting in comprehensive products such as its video intercom system.


1. Wireless Video Intercom:
2. Smartphone connect Model: