IPTV
---
What is IPTV?
IPTV (Internet Protocol television) is the delivery of programming by video stream encoded as a series of IP packets. IPTV is distributed by a service provider and can be free or fee-based and can deliver either live TV or stored video.

From a TV watcher's point of view, IPTV is very simple: instead of receiving TV programs as broadcast signals that enter your home from a rooftop antenna, satellite dish, or fiber-optic cable, you get them streamed (downloaded and played almost simultaneously) through your Internet connection. Not the kind of connection you have today, which can probably handle only 1–10 Mbps (million bits per second—roughly the amount of information in an average novel entering your computer every second!), but a broadband line with about 10 times higher bandwidth (information carrying capacity) of maybe 10–100Mbps.

You watch the program either on your computer or with a set-top box (a kind of adapter that fits between your Internet connection and your existing television receiver, decoding incoming signals so your TV can display Internet programs).

Three types of IPTV

IPTV comes in three different flavours.
The first kind—and the one you're probably using already—is called video on demand (VOD). With a service such as Netflix (an online movie website), you select a TV program or movie you want to watch from a wide range, pay your money, and watch it there and then.
A different kind of IPTV is being offered by some of the world's more enterprising TV broadcasters who make their last week's programs available online using a web-based streaming video player. This kind of service is called time-shifted IPTV, because you're watching ordinary, scheduled broadcasts at a time that's convenient for you.
The third kind of IPTV involves broadcasting live TV programs across the Internet as they're being watched—so it's live IPTV or IP simulcasting.
All three forms of IPTV can work either using your computer and an ordinary web browser or (for much better quality) a set-top box and an ordinary digital TV. All three can be delivered either over the public Internet or through a managed, private network that works in essentially the same way (for example, from your telephone and Internet service provider to your home entirely through the provider's network).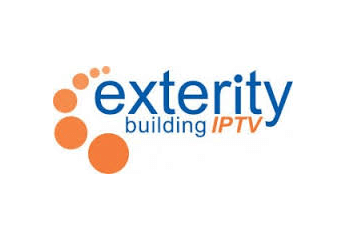 Founded in 2001, Exterity is firmly established as the global leader in enterprise IP video technology, and is the only provider of truly end-to-end IPTV and Digital Signage product range that harness the power of video to communicate, educate and entertain.

Exterity systems are deployed globally by some of the most recognized brands in the world, enabling the distribution of broadcast quality digital TV and video over IP networks to an unlimited number of end points. With centralized management, configuration and control, Exterity supports large volumes of content and devices without compromising system performance or availability.

The Exterity Products include the following: