Video Management System
---
A Video Management System, also known as video management software or a video management server is a major component of a security camera (CCTV) system that in general:
Collects video from cameras and other sources
Records / stores that video to a storage device
Provides an interface to both view the live video, and access recorded video
A Video Management System (VMS) offers attractive networking capabilities like integrating with other security devices and business systems in order to offer the flexibility of running multiple cameras on the same network and has the ability to evolve and adapt to changes in surveillance infrastructure and cover large areas in an efficient way.
"Basically a Video Management System will deliver intelligent software for the operations and functions related to Video Surveillance hardware on an IP backed network. Through this feature an opportunity is created to integrate other components of corporate security program as well. The Internet Protocol has drastically changed the role and capacity of Video Management system in Surveillance field."
A VMS is the software component of a network video recorder and digital video recorder and tends to be more sophisticated; providing more options and capabilities than a standard NVR device. These capabilities include:
Intruder alert
Loitering detection
Vehicle License plate detection
Human traffic monitoring
Abandoned/suspicious object detection
Camera tamper alert
Automatic notification of authorities
Vandalism / suspicious activity alert
Facial recognition
And more….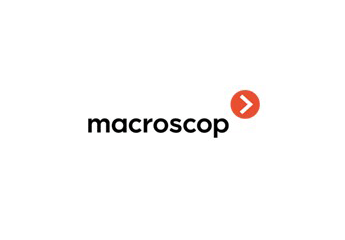 Macroscop is a global provider of an Open-Platform Video Management Software (VMS) with the added strong intelligence of video analytics and network video recorders (NVR). Macroscop has received a national award for innovation and became one of the first residents of the Skolkovo innovation city.

Currently over 17 000 video surveillance systems, employing over 200 000 IP video cameras, are successfully running with Macroscop all over the world. Macroscop's technology allows for scalable systems with an unlimited number of IP cameras, servers and workstations. The Macroscop dealer chain contains over 3 000 system integrators and distributors of video surveillance systems.

Macroscop VMS comes in the following packages: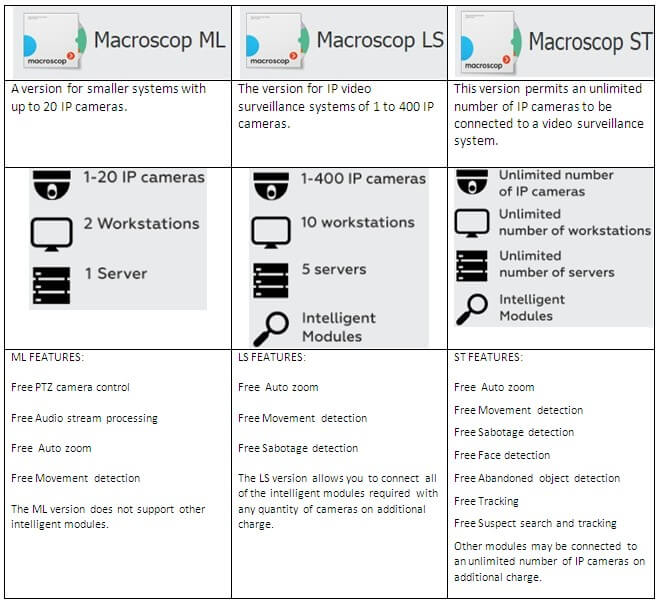 MACROSCOP Intelligent Modules:
In order to meet additional or unique requirements it is possible to expand the functionality of the video surveillance system by connecting intelligent modules to Macroscop's IP camera software. You need only select the module(s) that suit your need or requirements and pay accordingly.

Macroscop has the largest variety of developed intelligent modules. Some of the unique modules are Suspect search and Suspect Tracking. Suspect search in archive quickly finds required fragments of video by the photo, pattern, position in the frame, object size, form, color, signs including search by multiple cameras and search for people in groups.


Face detection, Suspect search, Tracking, Sabotage detection and abandoned object detection modules are included in Macroscop ST Version for free. Other modules are optional and can be included on additional charge.
All intelligent modules may only be connected to Macroscop LS on the additional charge, except for only the Sabotage detection which is available for free on the LS version.
Intelligent modules cannot be used with Macroscop ML, except for Sabotage detection, Audio stream processing, and PTZ camera control modules which are available for free.
The Macroscop intelligent modules include the following: